Brazilian, Ricardo dos Santos, Ricardinho, was assaulted by Hawaiian Jamie O'Brien during trial for the sixth stage of WCT event in Teahupoo.
Hawaiian surfer Jamie O'Brien has apologized and put his head down as he shook the hand of Brazilian surfer Ricardo Dos Santos to express humility, this according to Santos following an earlier incident at the Billabong Pro Teahupo'o trials where O'Brien punched Santos in the face during the contest. "After the episode, @whoisjob, came to say sorry and make sure that will never happen," wrote Santos on his Instagram account. "For the brazilian people I told him to put his head down and be humble as a normal human! Brazil, we got dignity back!"
Above his comment is a photo of O'Brien with his head down shaking the hand of Santos. In a message that Santos wrote online he explained the incident. "I was making the heat and he was in third needing a 3," wrote Santos. "With 30 seconds remaining we had a paddle battle and I won, so he took off in front of me and as soon as I was doing a bottom turn, he punched me in the face. Basically that was it." O'Brien wrote a message of his own before Santos revealed the apology. ""Every truth has two sides" it is as well to look at both, before we commit ourselves to either"," wrote O'Brien on his Instagram account. The message accompanied a picture he took of a Tahitian island.
 The ASP, which is the governing organization of the Billabong Pro Teahupo'o, has yet to comment on the incident. It's unknown if O'Brien will face any consequences for his actions or if the apology will suffice. Video and photos of the incident are currently not available and it isn't known if there is any footage of the contest.
This is What Dane Reynolds had to say about the indecent. Leave your comments and tell us what you think about this episode. hopefully JOB 2.0 will show us some more Northshore fighting tactics.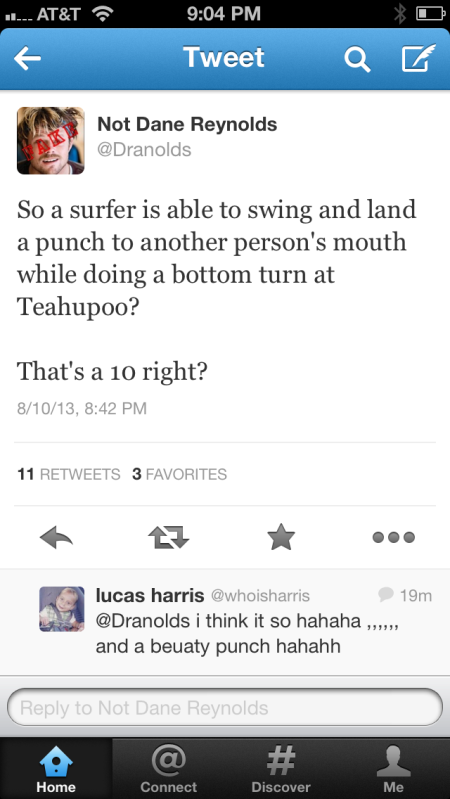 In case you don't know who Jamie O'brien is watch his reality show below JOB 2.0